Like most businesses we've seen our fair share of change over the past 12 or so months, some good and some more challenging…!
One of the benefits in our opinion the covid period has brought is putting an emphasis on personal physical and mental well-being. At Cinch, the management have always placed the wellbeing of our valued employees at the front of their minds and we're glad to have been able to build on that in 2021 in 3 distinct areas!
Launch of a physical/mental well being platform GoVida.
Launch of a new flexible working policy.
The company move to new offices.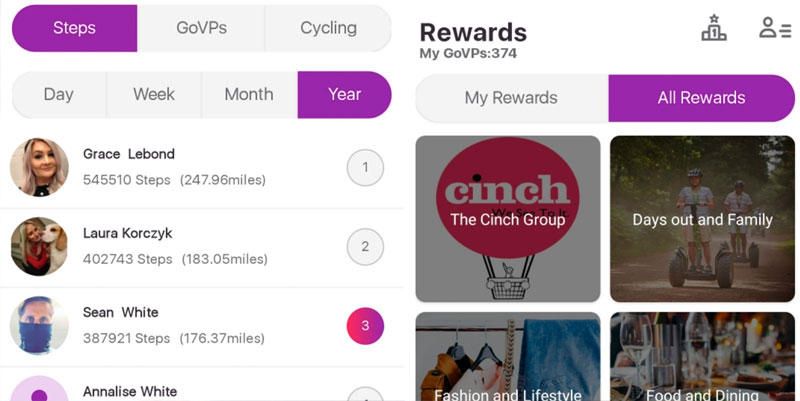 We caught up with a few of the Ops team to see how they have/are benefitting from the changes.
How have you and the team settled into the new office?
(Abby Layhe): We have all settled in well and it almost feels like we were always here. I was worried that I wouldn't like it as much as the old office, but I definitely like it more, there's a lot more space and it feels more modern. And no one has managed to get lost trying to find us yet, which is always a benefit!
What do you like most about our new home?
(Abby Layhe): We have more space in this office, which means more opportunities to get steps in! It feels like a much better space to work, we had outgrown our old office, this one feels like a much better fit for us. Also, I no longer have to sit on my own!
How do you utilise the companies flexi-time policy?
(Grace Lebond): I utilise the flexitime policy to enable me to start work earlier which means I can finish earlier too whilst still working the same amount of hours.
What benefits do you feel this gives both inside and outside of work?
(Grace Lebond): I really benefit from the flexitime options as it enables me to work hours which suit my lifestyle better. It gives me more time to enjoy my summer evenings by completing live exercise classes which I would not be able to otherwise, and going on dog walks with my friends. I also think it benefits our contractors and clients somewhat as the office and phones are staffed over a longer period of time.
How have you found the first few months using GoVida?
(Mia Hinchliffe): Really easy to use, I like how it keeps track of your steps over the course of weeks, it's not just strictly for each day. There's also a variety of rewards to choose from.
Do you feel it has impacted how you manage your well-being and if so how?
(Mia Hinchliffe): Yes, I feel like the challenges are really good for encouraging me to go on longer walks to keep active. The fact that there is a leader board also motivates me to want to be close to the top.
We strongly believe that in providing a positive and active workplace can only be beneficial to our staff and in turn the business and we're glad to hear that our team agree!
If you want to work for a modern employer of choice in Sheffield, get in touch!